Overview of IncrediMail mail migration
Wednesday, April 18, 2012 @
08:04 AM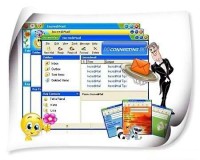 Historically, the IncrediMail mail client has gained a reputation of a strong alternative to most other email applications that were mostly tailored for the corporate world and demanding users who wanted to control nearly every aspect of their daily emailing activities. IncrediMail, on the other hand, offered a different approach to email exchange and faced all other users who sought a way to add more fun to their daily communication with friends and colleagues. As the result, IncrediMail is one of the very few email clients on the market that is functional, entertaining and plain exciting to use. The program offers animated emoticons, customizable message backgrounds and themes, action-specific animations, sounds and a bunch of other features that make the program stand out of the crowd of nearly identical email tools. However, IncrediMail is not the best choice for corporate users, who definitely don't need all the bells and whistles it offers. Since Outlook is arguably the most popular email client in the corporate world, people migrating from IncrediMail most often transfer their IncrediMail mail to its native PST format and that's where problems usually start. IncrediMail mail is stored in IMM files, which is native to the application and is not directly supported by any other email programs on the market. Furthermore, some organizations and professionals do not use Outlook or use it in combination with other clients, which creates an obvious need for an efficient strategy of converting Incredimail mail to formats that can be easily imported into popular (and not so popular) email solutions. This article explains the process of converting and transferring IncrediMail mail to intermediate formats and, ultimately, to destination applications such as Windows Live Mail, Thunderbird, Outlook Express and even Apple Mail or Mac Mail.
Choosing a strategy for
mail migration

from IncrediMail

First and foremost, mail migration can be either manual or automated, or a combination of both. Manual mail migration does not require any third-party tools, but may be time-consuming, tedious and tiring. Besides, non-automated mail migration will not work for complete migrations from IncrediMail to other mail applications. If you are only looking to convert a few messages from IncrediMail to another email client, there is no real need to spend money on a specialized tool. This type of mail migration can be performed manually.

The simplest solution is to select all the messages you need to carry over to another email client and forward them to another address that belongs to you. As the result, you will be able to access this email account from the necessary program and download the forwarded messages. The only problem with this method of mail migration is that all forwarded messages will list you as the sender, so you will end up with a bunch of emails from yourself. It's not a problem if you are only concerned with the information in these emails. If, however, you want to be able to quickly locate a specific message by the original sender, you may want to resort to a different method.

Another viable option for manual mail migration is based on the idea of converting messages one-by-one. To do that, locate the emails that need to be transferred and start drag-n-dropping them onto your Windows desktop or a separate folder on your hard drive. Please note that every new drag-n-dropped email will be called "email.eml", so make sure to rename and/or move the previous message to prevent overwriting. Once done, you can export these emails to nearly every other email client using the same drag-n-drop method. As you see, this mail migration technique is a no-brainer, but will hardly be applicable for converting a couple of hundred emails. Such migrations will inevitably require a specialized mail migration tool.
IncrediMail conversion

in a nutshell

Third-party Incredimail conversion tools dramatically facilitate the migration process and make sure that every message is properly converted and none are missed. In addition, some of such Incredimail conversion programs are capable of automatically transferring your IncrediMail email archive to a specific application, such as Outlook, for instance. All IncrediMail conversion tools are based on the same concept of parsing IMM files, identifying individual messages stored within them, converting each of them into an intermediary format (EML in most cases) and then exporting batches of files to the native format of the destination tool. If you regularly need to perform IncrediMail conversion for yourself or your colleagues and employees, purchasing such a tool would be a wise decision that would eventually save an ample amount of your time and effort. However, even if you need a one-time full IncrediMail conversion, you will hardly be able to do without a specialized tool like IncrediMail to Outlook Converter.
Picking the right tool for transferring
IncrediMail emails
IncrediMail to Outlook Converter is a smart little conversion tool that will help you transfer any number of IncrediMail emails to nearly any known email application out there. The software was initially designed to convert IncrediMail emails to Outlook's native PST format, but was later updated to support EML output, thus allowing you to save the contents of IncrediMail IMM files as folders of EML files that can be easily imported into alternative email applications using built-in import tools or manually using drag-n-drop.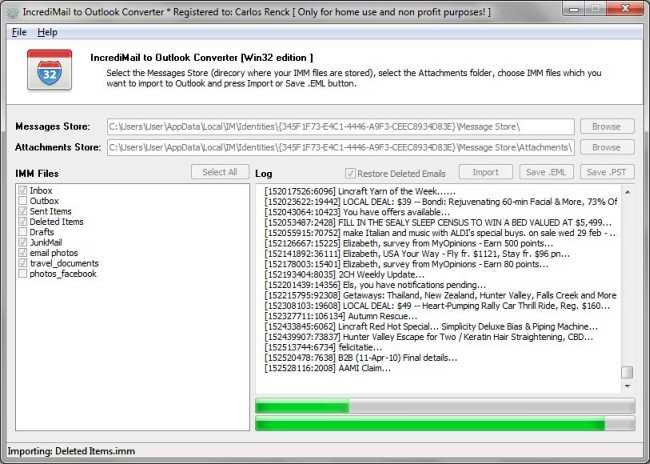 System Requirements:
Windows OS (any 32 or 64-bit),
to import emails: Microsoft Outlook for Windows (any 32 or 64-bit).
Optional: IncrediMail v2.x.
 IncrediMail to Outlook Converter is a compact, fast and reliable tool with a self-explanatory interface and a very reasonable price tag. Built with ease of use in mind, the program can be efficiently used by nearly anyone – from secretaries and juniors to heads of IT departments. Thanks to a convenient wizard the program is based on, the user simply cannot make a mistake, damage or overwrite files. The process of converting IncrediMail emails is therefore limited to a series of clear steps:
Start IncrediMail to Outlook Converter. The program will automatically detect the location of your IncrediMail IMM files (if IncrediMail is installed) and prefill corresponding fields. If you have IncrediMail emails stored somewhere else, specify their location manually using a corresponding folder selection dialog.

The program allows you to select IMM files you want to use for conversion by checking corresponding boxes next to them on a list located in the left part of the window.  If you want to transfer your entire email archive, leave all boxes checked.

If you want to convert IncrediMail emails directly to Outlook, make sure it's not running and click the "Import" button to start the export process. If you need to export messages to another email client, use the "Save .EML" button. This will open the output folder selection dialog. Specify the location for converted IncrediMail emails and watch the program process the data.

Upon converting the selected files, the program will display a log of the current conversion session.

If you converted IncrediMail emails to Outlook, you can now start it to find your messages there. If you chose to convert original message to the EML format, open the folder you selected for output to find a number of subfolders (corresponding to the original IMM files) with EML message files in them. All you need to do now is start the destination email client and import these files using built-in tools or drag-n-drop them into a corresponding email folder within the program.
Fast and easy
email export

from IncrediMail to other email clients

IncrediMail to Outlook Converter is an amazingly efficient email export tool that works perfectly both for IncrediMail to Outlook conversion and conversion to many other email clients. This affordable solution will make you forget about manual email export and will save a fair amount of your time, especially of email export of all kinds is your direct responsibility. The program is as simple as it gets and takes good care of the integrity of your emails. Also important is the fact the IncrediMail to Outlook Converter does not modify original IMM files, so you can always use alternative email export methods if this one doesn't work for some reason. Try IncrediMail to Outlook Converter to see a real expert in email export in action!
Facebook Comments
comments
One Response to "Overview of IncrediMail mail migration"