Download IncrediMail to Outlook Converter and try it
Feel free to download a brand new and extremely useful IncrediMail to Outlook Converter now!
This is the download page for free limited version of IncrediMail to Outlook Converter. IncrediMail to Outlook Converter is a powerful, fast, and simple .IMM to .PST conversion solution which allows users to rescue old IncrediMail emails and import them into Microsoft Outlook or a similar email manager. This program not only converts the body text of the email, but also supports transferring all attachments which were associated with it when it was first sent. IncrediMail to Outlook Converter can even handle an entire directory of emails at once, allowing you to import all of your old IncrediMail emails with a single click. You are strongly encouraged to download the free trial version of this utility, as it will allow you to see if IncrediMail to Outlook Converter ( IncrediConvert ) is right for you.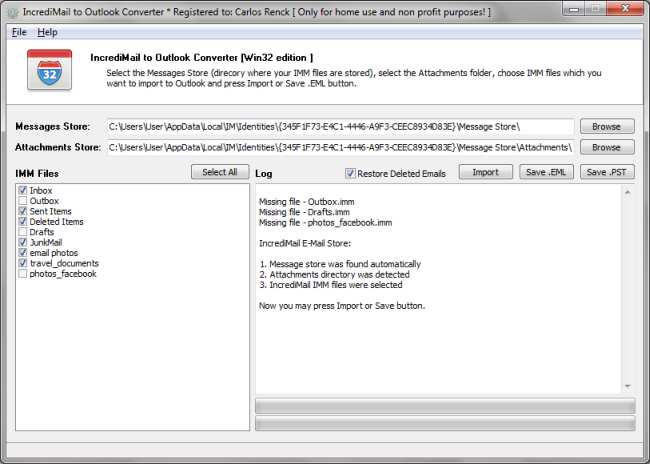 If you no longer have access to your old IncrediMail software, it can be stressful knowing you have lost access to all your past communications. However, with IncrediMail to Outlook Converter you do not need to fear – all of your emails can be converted from IncrediMail's .IMM to .PST, the format used by Microsoft Outlook and many other industry leaders in email managing software. Microsoft Outlook is the most popular choice for both businesses and individuals looking for a program to store and manage their online discussions, and for this reason it is smart to make the switch even if you still have access to IncrediMail, and IncrediMail to Outlook Converter is the best tool for the job.
Software installer includes both 32-bit and 64-bit editions so you don't need to search special edition for your Outlook. IncrediMail to Outlook Converter will work for all versions of MS Outlook.

This program is so intuitive that the most basic computer users will have no problem downloading or making use of this powerful utility. The interface is clean and understandable, and all of the options are clearly explained so that even a first-time user will understand every choice and can complete conversion from IncrediMail to Outlook (.IMM to .PST) in three simple steps.
First, you select the IncrediMail Message Store and Attachment Store directories.
Next, you choose any subdirectories to exclude, and finally, you simply click Import.
If the IncrediMail is already installed at your system, you have to do nothing, just press the Import button after start.  IncrediMail to Outlook Converter detects the Message Store location automatically.
IncrediMail to Outlook Converter is so flexible that you can even select whether you want the files imported directly into the Outlook Inbox or to the root folder where Outlook stores its messages.

 In addition to downloading the free trial, you can also purchase the full version of IncrediMail to Outlook Converter. This gives you access to its complete set of features, including the ability to see the To and From fields in converted messages. Buying the full version of this product will also remove the promotional messages in the body of converted emails, as well as give you access to extended support for your .IMM to .PST conversions. Moreover you can order this IncrediMail to Outlook Converter on a CD which also comes with the Extended Download Warranty option for your purchase.
System Requirements:
Windows OS (any 32 or 64-bit),
to import emails: Microsoft Outlook for Windows (any 32 or 64-bit).
Data: Message store of IncrediMail v2.0 or v1.0.

* – Don't know how to convert IncrediMail 2.5 emails to Outlook? Ask us! We have the tool on demand!
IncrediMail Recovery Tool Download
In case if the usual version of IncrediMail Converter is unable to help you and displays the message that containers.db is not found or that your Message Store is damaged you have to use special IncrediMail Repair Tool. This special version of IncrediMail converter will be helpful also in case if you want to migrate your emails from IncrediMail of version 1.0 or XE.
What options are suitable for your needs?
| | | | |
| --- | --- | --- | --- |
| AVAILABLE OPTIONS | IncrediMail v1.0 | IncrediMail XE | IncrediMail v2.0 |
| Import IncrediMail emails to Outlook Root | YES | YES | YES |
| Import IncrediMail emails to Outlook Inbox | YES | YES | YES |
| Import IncrediMail emails to specified Outlook folder | NO | NO | YES |
| Import IncrediMail emails to PST file | NO | NO | YES |
| Repair emails from damaged IncrediMail message stores | YES | YES | NO |
| Restore previously deleted IncrediMail messages | YES | YES | YES |
| | DOWNLOAD | DOWNLOAD | DOWNLOAD |