Purchase IncrediMail to Outlook Converter
Do not forget to download the free trial of IncrediMail to Outlook Converter before purchasing the full version. The demo will give you a preview of this powerful .IMM to Outlook conversion tool, allowing you to see how quickly and effectively this utility operates. We are so confident in our product that we are sure you will return to purchase the complete version after seeing how well IncrediMail to Outlook Converter can import your IncrediMail messages.
IncreadiMail to Outlook Converter serial key
Our best in class IncrediMail to Outlook converter can be registered for home and business usage.

HOMEFor Home Use Only

$45.95year

Non-recurring

Up to 3

Activation(s)

Standard

Support

Free

Updates
BUSINESSProfessional's best Choice

$85.95year

Non-recurring

One

Activation(s)

Premium

Support

Free

Updates
Please enter correct email address during purchase, it will be used to send you the license code.

License validity is calculated starting from the date of purchase
Purchasing IncrediConvert Benefits
Purchasing IncrediMail to Outlook Converter has many benefits. This fast and powerful tool is the best choice for .IMM to Outlook conversion, completing the job quickly and accurately so that you know your emails are safe. IncrediMail to Outlook Converter has a design that is easy to use and efficient, making it simple for even new users to complete the conversion in only three steps. By purchasing the full version, you gain access not only to the To and From fields in converted emails and the ability to import IncrediMail messages into Outlook without promotional text, but also an extended license which allows for customer support and updates over a long period of time. When you purchase the full version of the program, a key code will be sent to you which allows you to unlock the premium features of the full version without needing to perform a separate download.

All orders are handled through the digital software vendor PayPro. This means you have a wide variety of payment methods, including MasterCard, American Express, or Visa credit and debit cards, Bank wire transfers, checks, and cash or money orders. Orders may also be placed through PayPal, ensuring that you have almost limitless methods for your security and convenience. You may also select a longer termed license when purchasing IncrediMail to Outlook Converter, giving you access to any future updates and releases of the program.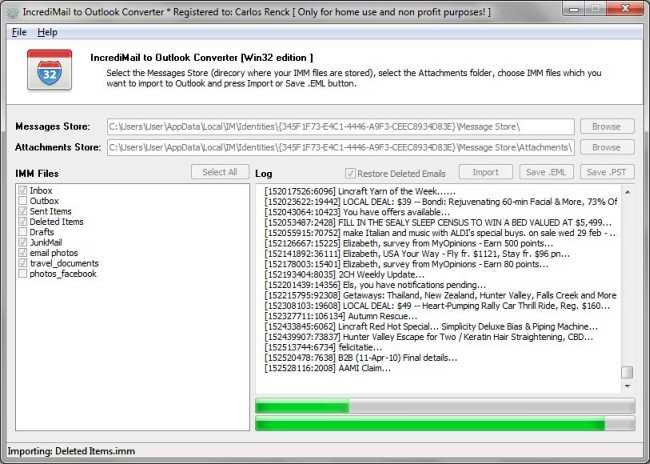 Optional
There are several license options which can be purchased along with IncrediMail to Outlook Converter. By purchasing Extended Download Warranty, you can ensure that should you lose your copy of the program at any time or for any reason, you may download an additional copy from a digital backup hosted on the download server. You can also buy Key Code Recovery, in case you lose the license code sent to you and wish to receive a second copy. Priority Technical Support can also be added to your order, ensuring that you have the premium benefit of first priority in handling any technical concerns you may have with IncrediMail to Outlook Converter. However, with any set of options you will have access to both basic technical support and free updates for the entire duration of the license. When it expires, the program will still continue to function with several features locked, but you will be eligible for any future updates and license prolongation with the discount.
Refunds and returns
Please be informed that we do not offer refunds of any kind. Our software is distributed as try before you buy and you are encouraged to download and try the software prior to pay for it. If you did not try the tool but paid for it – it means that you agreed with our terms and conditions.