IncrediMail Contacts to Outlook
Tuesday, April 24, 2012 @
05:04 PM
IncrediMail to Outlook Converter designed to import emails and attachments from IncrediMail to MS Outlook. You may also transfer IncrediMail  contacts to MS Outlook or export Contacts from IncrediMail address book to any other supported program. This simply task can be performed by you manually. Read more to learn how to convert incredimail adressbook to Outlook contacts.
Question from  Giorgio Ceroni [Italia]:
Transfer emails from Incredimail to Outlook has worked well for both the Incoming Mail for Sent Mail is also included with Folders that were created and why they are happy with your program. Sorry if I ask one other thing that I did not understand: As you can also import all the contacts?
Il trasferimento delle email da Incredimail ad Outlook ha funzionato bene sia per posta in Arrivo che per posta Inviata incluso anche con le Cartelle che erano state create e per questo sono contento del vostro programma. Scusate se chiedo una altra cosa che non ho capito: come è possibile Importare anche tutti i Contatti ?
Answer:
You may export contacts from IncrediMail to .CSV file and then use this file to import contacts to Outlook or any other supported program. Or you may use this contacts .CSV file in Excel. To export Incredimail Contacts you may do the following:
Run IncrediMail emails client software
Click menu File | Import and Export and choose Export Contacts item
Specify the name and location to save exported contacts and confirm saving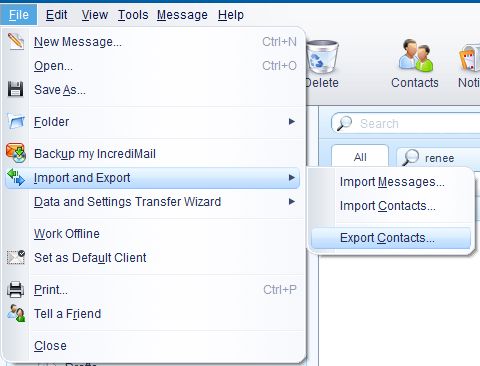 That will save your IncrediMail contacts to .CSV file. Now you may run Outlook and import IncrediMail contacts inside it.
Run Microsoft Outlook
Use menu File | Open | Import
Choose "Import from another program or file" item
Press Next button
Choose "Coma separated values (Windows)" item
Press Next button
Choose your .CSV file and import your contacts.
As you see there is nothing hard. You may import IncrediMail contacts to Outlook in few clicks.
Response from Giorgio Ceroni [Italia]:
Now everything is perfect … also imported all contacts. Your program is truly EXCELLENT and I promise to divulge it up and all. Thanks to New … Bikes are really "smart".
GRAZIE MILLE DAVVERO !!! Adesso è tutto perfetto … importato anche Tutti i Contatti . Il vostro Programma è davvero ECCELLENTE e Vi prometto lo divulgherò al massimo ed a Tutti. Grazie di Nuovo … siete veramente moto "in gamba"
Facebook Comments
comments