Choosing the right Incredimail converter
Tuesday, January 10, 2012 @
08:01 AM
IncrediMail is a popular email client featured in a number of Hollywood movies as an alternative to regular rather boring, formal and business-like email tools. Millions of people have preferred IncrediMail to other email clients: from students and housewives to office workers and the creative public. IncrediMail offers tons of great features that make everyday communication look and feel different: customizable email backgrounds, animations, emoticons, individualization of the contacts list, animated and photo notifiers, a powerful greeting card generator and a lot more! IncrediMail emails do look different and it wasn't left unnoticed by millions of users who wanted a brand-new email tool. However, not everyone needs the bells and whistles of IncrediMail – and some people simply cannot use the program because it doesn't comply with corporate standards. The solution to this problem is an IncrediMail converter capable of quickly converting IncrediMail messages to a proper format and copying them to the necessary program. As a rule, companies use Microsoft Outlook as a standard email exchange, collaboration and scheduling solution and that's where most IncrediMail email messages end up being moved to. The choice of the right IncrediMail converter may not be easy, since there are so many alternatives on the market, but it's the most important ingredient of this transition, since only a high-quality IncrediMail converter can ensure accurate and hassle-free migration of your email. Below are some insights into the IncrediMail to Outlook conversion process that will help you get a better idea of what a decent IncrediMail converter should be able to do.
Incredimail to Outlook conversion explained
Both IncrediMail and Outlook store messages, attachments and other items in their own formats. The essence of IncrediMail to Outlook conversion is to properly align the two formats and transfer your data from IncrediMail to Outlook without data corruption and without losing a single item. There are several approaches to IncrediMail to Outlook conversion – from manual email-by-email copying involving lots of manual operations to nearly instant migrations using specialized tools. If you need to copy a couple of emails only, you may well do without third-party software, but if you are transferring your entire multi-year email archive from IncrediMail to Outlook and want to make sure everything goes smoothly, using an IncrediMail to Outlook conversion tool will probably be the best idea. Your email migration scenario will also depend on the version of IncrediMail you are currently using. Earlier versions of IncrediMail used a format that could be converted by a great number of free tools, but the most recent versions use a heavily modified version of this format that most existing converters do not support. So how should you convert your emails from IncrediMail to Outlook?
The ABC of IncrediMail import operations
The most obvious and seemingly easy way of performing IncrediMail import is to select all of your messages in IncrediMail and send them to an email account you have access to, then download your messages to Outlook. They will, indeed, end up being copied to you inbox, but your name will be all over the place, since you will be the sender and recipient and the same time. This, in turn, will make it somewhat difficult to find the necessary information later on. This method of IncrediMail import should only be used for transferring a few messages only, but won't be a good choice for full conversion.
Another manual IncrediMail import method implies that the user opens IncrediMail and starts dragging the necessary email messages to the desktop or a folder on the hard drive. When a message is dropped, it appears in the folder as a file called email.eml. In order to continue and avoid overwriting, you will need to rename it each time you add another file. Once you've extracted the necessary files, you can drag them into Outlook Express, a free email tool available in nearly every Windows installation, and then import them to Outlook. Alternatively, you can use a commercial *.eml to *.pst conversion tool like Outlook Import Wizard or EML to PST Converter to perform the same operation. As you see, this is a rather tedious and time-consuming IncrediMail import technique that increases the possibility of making a mistake. These are the two most popular IncrediMail import methods that require no third-party tools.
However, since you are primarily concerned with data security and accuracy of IncrediMail import, you should really try a specialized tool to fulfill this task.
Performing IncrediMail conversion on your own
If you are looking for a proper and affordable tool for IncrediMail conversion, we recommend using IncrediMail to Outlook Converter. Created by professionals in data conversion and migration software, it has everything necessary for performing IncrediMail conversion quickly, reliably and as accurately as at all possible. IncrediMail to Outlook Converter was designed to automate conversion from IncrediMail 2.x to Outlook.
If, however, you are still using one of the earlier versions of IncrediMail, keep in mind that it uses the *.mbox format for storing messages. MBOX emails can be converted to the EML using one of the many free conversion tools available on the market (like MBOX to EML Converter, a free tool that comes with Outlook Import Wizard) and then easily imported to Outlook using the method described above or using specialized conversion tools designed for this purpose. The newest version of IncrediMail relies on the IMM format to store emails and this format is only supported by specialized IncrediMail conversion tools like IncrediMail to Outlook Converter.
If you need a reliable, fast and easy-to-use IncrediMail conversion solution for transferring your email messages and attachments to Outlook, Incredimail to Outlook Converter is all you'll ever need to accomplish this.
A proper way of moving your Incredimail letters to Outlook
Incredimail to Outlook Converter is a perfectly functional, lightweight and well-rounded tool that will transfer any number of Incredimail letters to Outlook in literally no time. The program has a simple interface with no unnecessary elements and controls, allowing any user – even one with minimal or no skills at all – to convert Incredimail letters into the right format and transfer them to Outlook. The program automatically locates the folders containing your Incredimail letters and attachments and allows you to select the ones that you need transferred. You can also choose whether you want your emails to be copied to the root folder or a subfolder of your default inbox folder. Once you're done configuring the import settings, you can hit the "Import" button to start the migration of Incredimail letters.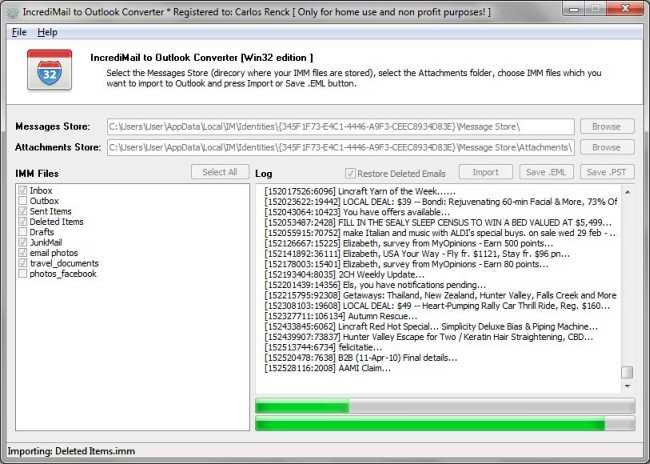 IncrediMail to Outlook Converter makes the conversion of entire email archives from Incredimail to Outlook a matter of minutes and saves you the trouble of doing it manually or spending considerable amounts of money on third-party services.
Facebook Comments
comments
One Response to "Choosing the right Incredimail converter"