Reasons for Performing an IncrediMail Migration
Friday, December 9, 2011 @
10:12 AM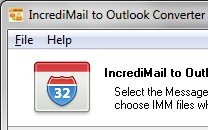 In the world of email clients, most of them do their best to imitate the well-known leaders in every possible aspect. And that is probably why most of them are so business-like, serious and plain dull to use at home. However, there are some exceptions to this rule – IncrediMail, for instance. This email product was initially meant to be an alternative to regular email clients and was developed to bring more fun, more colors and more emotions to day-to-day email communications. IncrediMail has tons of great features: from a wide choice of emoticons and message backgrounds to email animations, easy and fast photo sharing, a built-in e-card generator and a convenient toolbar. However, these features are mostly intended for home users and can hardly be used in a business environment. This is exactly why so many devoted IncrediMail users decide to switch to alternative email applications, such as Outlook, and perform IncrediMail migration. IncrediMail migration is a process whereby all IncrediMail messages are converted into the Microsoft Outlook PST format. Due to the complete incompatibility of formats used by both applications, IncrediMail migration and conversion cannot be avoided. Possible IncrediMail migration scenarios will be described in detail later in this article.
IncrediMail conversion in a nutshell
The message format used by IncrediMail depends on its version. Versions 1.x used the *.mbox format for storing messages, so IncrediMail conversion could be accomplished with the help of any MBOX to EML converter – first, the messages had to be converted into the EML format and then imported to Outlook. IncrediMail 2, however, uses IMM, its own proprietary message format that is completely incompatible with Outlook and requires different IncrediMail conversion tools. IncrediMail conversion can be either direct or have an intermediate stage that may not necessarily be automated. Apparently, users looking to perform IncrediMail conversion would prefer to use tools capable of minimizing time and effort needed for this task. An ideal IncrediMail conversion tool should be able to open IMM message files, convert them and add them (along with attachments) directly to your Outlook PST file – and all of this should be done with a single click.
How to copy IncrediMail email to another email client?
Due to format incompatibilities, you cannot just copy IncrediMail email files over to Outlook. The latter uses PST storage files for everything – messages, contacts, attachments, tasks, etc – while IncrediMail stores messages and attachments separately and uses its own IMM format for emails. Therefore, you IncrediMail email migration options are limited.
There are a couple of simple, yet somewhat cumbersome methods of copying IncrediMail email messages to nearly any email client. First of all, you can go to your IncrediMail and simply forward the necessary emails to another address you have access to via Outlook. This, however, will solve the problem only partially, since all of your messages will come from you and your name will be all over the inbox, making it pretty hard to find specific emails afterwards. So this method of copying IncrediMail email should only be used for urgent cases when no other options are available.
You can also resort to an entirely manual way to transferring IncrediMail email messages to Outlook. To do that, drag the necessary emails from IncrediMail to the desktop one by one – this will save them as an *.eml file called email.eml. To continue extracting IncrediMail email messages, you will need to rename the email.eml file before extracting a new one to avoid overwriting it. Once you have an array of EML files, you can add them to Outlook Express by drag'n'drop and, finally, export them to Outlook.
The best way to export IncrediMail emails
Despite so many workarounds, the best way to export IncrediMail messages to Outlook is to use specialized email conversion tools. The choice of the right software depends primarily on the version of IncrediMail you use. If you are still on IncrediMail 1.x, you should be aware that this version uses the *.mbox format for messages, so you will need an *.mbox converter to export IncrediMail emails. We strongly recommend using a handy tool from OutlookImport.Com called MBOX to EML Converter, which is a free add-on for Outlook Import Wizard. Once you've converted your email files to the EML format, you can drag and drop them into Outlook Express and them export IncrediMail messages to Outlook. As you see, this method may also be quite time-consuming, as you'll be dealing with several tools and conversions to export IncrediMail data to the destination program.
However, if you use Incredimail 2.x, you'll be pleased to learn that there is a very quick and basically one-click method of converting your IncrediMail messages to Outlook.
Incredimail to Outlook in seconds
IncrediMail to Outlook Converter is a compact tool that dramatically facilitates the process of IncrediMail to Outlook email conversion and migration. Offering a clear, minimalistic interface and just the necessary set of features, it allows users of all skill levels, including novices, to successfully perform IncrediMail to Outlook migration on their own.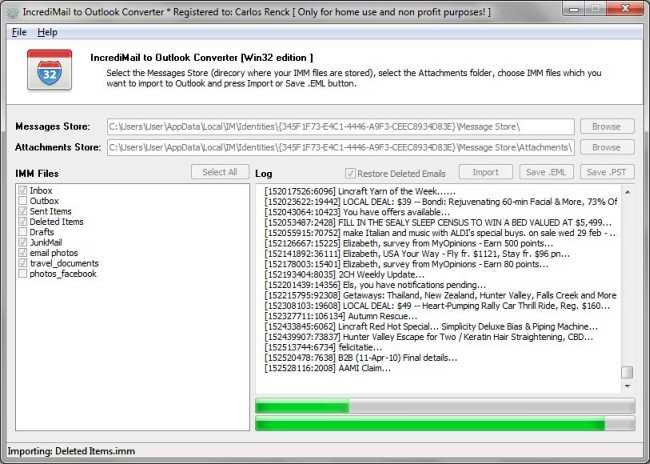 The program automatically locates the folders containing IncrediMail messages and attachments (in case IncrediMail is installed), but also allows the user to manually specify the location of these files. Once done, it lets the user define how the new messages will be added to Outlook – either to the root folder or to a subfolder in the default mail inbox. IncrediMail to Outlook Converter shows a detailed log of the process and lets you select the IncrediMail files you want to copy over to Outlook. The great thing about IncrediMail to Outlook Converter is that if you have IncrediMail 2.x installed on your PC, all you need to do to get the job done is to start the program and hit the "Import" button! This software saves you a great deal of time and makes IncrediMail to Outlook a task you can handle without anybody's help.
Facebook Comments
comments
One Response to "Reasons for Performing an IncrediMail Migration"