Using an IncrediMail converter for complete email migrations
Thursday, May 17, 2012 @
12:05 PM
This IncrediMail converter drastically simplifies the Incredimail migration process by automating message extraction, conversion and saving. As a user, all you need to do is to start the program and hit a single button. If IncrediMail is currently installed on your computer, you won't even have to look for its data files – the IncrediMail converter will find them for you. If you only have the data files, but no IncrediMail on your PC, you can specify their location manually. Once done, you can select the IncrediMail IMM files that will be used for IncrediMail conversion and change the single setting offered by the program – final location of the soon-to-be- converted files. Once done, click the "Import" button to get the ball rolling.
Not only does an IncrediMail converter save your time, money and a great deal of nerve cells, but also turn the seemingly complex task of IncrediMail to Outlook conversion into a matter of a single click and several minutes of waiting!
The algorithm of a successful IncrediMail migration
In order to perform IncrediMail migration using IncrediMail to Outlook Converter, all you need to do in a standard situation is to start the program and click the Import button. IncrediMail migration will start immediately and will last for some time, depending on the number of IMM files you selected, their size and the speed of your computer.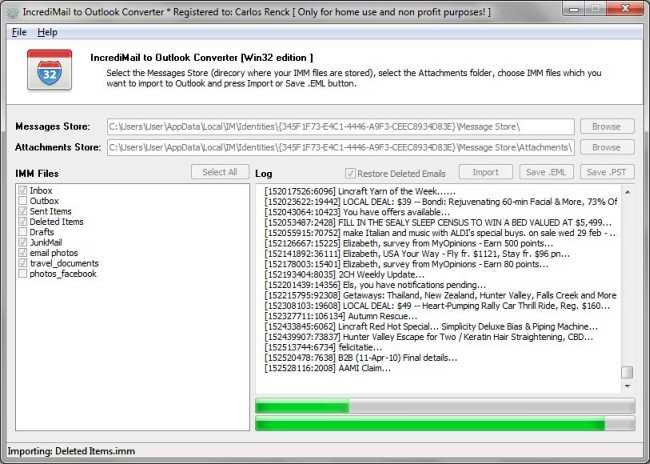 Therefore, the algorithm of IncrediMail migration using IncrediMail to Outlook Converter is as follows:
Make sure you have Outlook installed on your computer (otherwise you will be able to extract emails to EML files only).

Make sure you have IncrediMail installed on your computer. If it's not, make sure you know where its IMM files are.

Start the program. If IncrediMail is installed on your PC, all the necessary paths will be pre-filled by the software. If not, manually specify the folder containing IMM files.

Using a pane on the left, select specific IMM files that email messages will be extracted from.

Specify whether you want IncrediMail messages to be placed in your Outlook Inbox folder (subfolders will be created) or placed in the root of the folder tree.

Click Import to let the program initiate the IncrediMail migration process.
A few tips for fast and hassle-free IncrediMail conversion
If you can afford spending some money on a reliable IncrediMail conversion and migration tool, do so and don't waste time trying to get things done on your own. This is especially true for situations when an entire message archive has to be transferred to Outlook. IncrediMail conversion in this case just cannot be manual and requires a tool that will handle a large number of source files. For ultimate IncrediMail conversion speed, choose nothing but IncrediMail to Outlook Converter – it will solve your IncrediMail migration in no time and with an ever-excellent result!
Facebook Comments
comments
One Response to "Using an IncrediMail converter for complete email migrations"