Migrating from IncrediMail to Outlook Express
Tuesday, February 14, 2012 @
06:02 PM

Although a lot of people consider Outlook Express to be a younger brother of MS Outlook with a limited set of features, this is not exactly true. In fact, these are two completely different applications that use their own data formats and have slightly different purposes. Both come from the same company and are intended for about the same target audience, but Outlook is traditionally used in corporate environments, while Outlook Express is mostly found on home PC's. IncrediMail, however, is a strong alternative to both, offering tons of great features that can easily make your emails stand out and add a good deal of fun to your daily emailing activities: colorful backgrounds, animations, contact photos, personalization elements, 3D effects, sounds and more. Sometimes, though, users need to transfer their IncrediMail email to Outlook Express – and it suddenly becomes a problem, since there is no easy way of performing an IncrediMail to Outlook Express migration. Fortunately, IncrediMail to Outlook Express export can be accomplished with the help of alternative methods, both manual and automated, so if you are looking for a reliable, safe and hassle-free way of performing an IncrediMail to Outlook Express message transfer, keep on reading. Moving your vast archive of emails and attachments from IncrediMail to Outlook Express is easier that you think!
The basic principles of
Outlook Express conversion
Outlook Express uses EML as a native format for email messages. This fact considerably facilitates Outlook Express conversion tasks, since *.eml files are supported by nearly all email clients as a standard format of message exchange. IncrediMail, however, stores its messages in the mailbox (earlier versions) and IMM formats (newest versions), which makes it impossible to perform Outlook Express conversion directly, without using third-party tools or special methods that will be described below. When it comes to Outlook Express conversion, you have two options – perform the conversion manually or using a special program that will automate the Outlook Express conversion process and make sure all of your messages are transferred correctly. Such a converter becomes especially convenient when you need to transfer your entire email archive and not just a couple of important emails. The basic principle of Outlook Express conversion is to convert source emails to the EML format and then simply drag and drop them to a corresponding mail folder in your Outlook Express window.
Moving your
IncrediMail letters

to another email client

Anyone looking to transfer IncrediMail letters to a different email client has to decide how this conversion will be accomplished – manually or automatically. The manual method works well for converting a small number of InrediMail letters and does not require any additional conversion tools. Therefore, if you need to transfer a couple of dozen emails, you may well do it without spending anything on conversion software. However, if you need to move your entire email collection from Incredimail to Outlook Express, for instance, doing it manually would be nearly impossible. Converting up to a few dozen IncrediMail letters can be pretty easy and you even have a few scenarios to choose from:
The fastest and easiest, though not the most elegant, solution: send all the necessary IncrediMail letters to another email address. You will need to have full account details to add a new email account in the destination email application and download the messages to your email inbox. This trick may work just fine in situations speed is your top priority. Bear in mind, however, that this method has a rather serious problem – the emails you will see in the destination client will all be from the same sender – that is, you. Simply put, you will get an inbox full of your former IncrediMail letters with your name in the Sender field. This may not be a problem if you plan to find the necessary information using the built-in search tool, but if you are used to sorting and finding emails by their sender, this result may be quite a disappointment.
Yet another manual method allows you to convert your IncrediMail letters one by one. Just open IncrediMail, find the emails that need to be converted to Outlook Express, and start drag-n-dropping email messages one by one onto your desktop or a folder on your hard drive. Please don't forget to rename each copied file before proceeding to a new one, as they will all have the same name, email.eml. Once you are finished copying your files, select them using your mouse or the CTRL+A combination, then drag and drop them into your Outlook Express.
As you can imagine, proper conversion of hundreds of IncrediMail letters using either of these methods would hardly be reasonable in terms of quality of end result, and the amount of time and effort this process would require. Therefore, if you are primarily concerned with large-scale migration of IncrediMail email to Outlook Express or other email clients, we suggest using a special conversion tool.
A tool that will help you
export IncrediMail to Outlook Express
Although IncrediMail to Outlook Converter was initially designed to convert IncrediMail email to Outlook, it will also help you export IncrediMail to Outlook Express thanks to the support of IMM to EML conversion implemented in the most recent version of the program. Incredimail to Outlook Converter offers a very intuitive and user-friendly interface with a bare minimum of controls and requires absolutely no data conversion experience, so it will be a perfect choice for novices and advanced users alike. To export IncrediMail to Outlook Express, follow these simple steps:
Start IncrediMail to Outlook Converter. If IncrediMail is installed on your PC, the program will automatically paste the paths to email and attachment files into corresponding fields. If not, you will have to manually specify their location using the standard folder selection dialog.

If you want to export specific files only, select them from the list on the left-hand side of the program window. If you'd like to export IncrediMail to Outlook Express completely, keep the default selection unchanged.

Click the "Save .EML" button. The program will ask you to select an output folder for exported files. Once done, your Incredimail files will be converted to EML and saved to the specified folder.

You are now ready to export IncrediMail to Outlook Express. Select all of the exported files using the CTRL+A key combination and drag and drop them into the necessary mail folder in Outlook Express.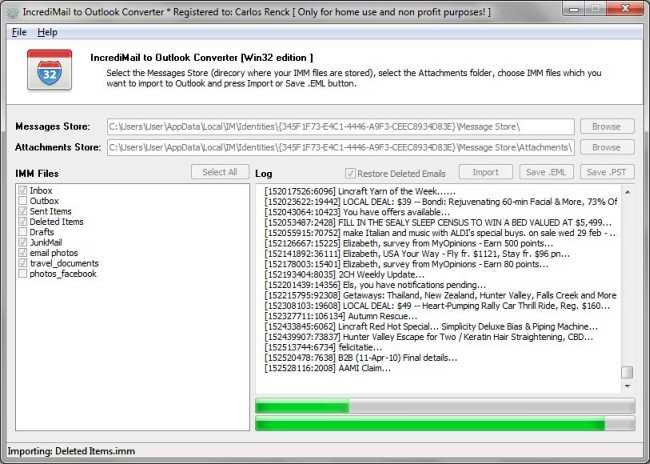 Making your
IncrediMail to Outlook migrations

a snap

As you see, IncrediMail to Outlook Converter can make both IncrediMail to Outlook and IncrediMail to Outlook Express migrations a snap and a task that even rookies can handle with ease. If you need to convert emails from IncrediMail to other email clients, including Outlook and Outlook Express, don't waste time doing it manually. A good IncrediMail to Outlook Express conversion tool will shorten a typical complete migration to just a few minutes, so if you value your time and want to be 100% sure that all of your messages are transferred correctly, try IncrediMail to Outlook Converter, one of the most reliable, affordable and easy-to-use IncrediMail to Outlook (Express) migration tools available on the market!
Facebook Comments
comments
One Response to "Migrating from IncrediMail to Outlook Express"