Migrating from IncrediMail to Windows Mail
Thursday, February 16, 2012 @
07:02 PM

For years, IncrediMail has been one of the few alternatives to mainstream email tools that offered familiar messaging functionality coupled with an unusually user-friendly interface. The latter drastically changed the entire email communication experience and made it possible to personalize messages, add animations to emails, assign photos to contacts for easier identification and generally add more emotions and fun to everyday emailing routines. However, as good as IncrediMail is, it can hardly be used in the corporate world, so a lot of users who are forced to switch to more business-like communication tools end up having to transfer all of their data from IncrediMail to Windows Mail, for instance. Due to the difference of mail formats between these applications, direct import/export of user's data is not possible, so this situation always requires a third-party tool capable of converting messages and making them suitable for IncrediMail to Windows Mail migration. The very process of IncrediMail to Windows Mail migration is rather simple in terms of format conversion, but requires special tools to automate specific aspects of the Incredimail to Windows Mail data transfer.
Understanding the
Windows Mail import

process

If you are ready to start the Windows Mail import process, you have a couple of options to choose from. If you don't have a special tool to help you with Windows Mail import, you are limited to manual and quite often time-consuming export/import of emails. First of all, of course, you can send your messages to a different address that you have access to. If you have the account details, you can add a new email account in Windows Mail and download all of the previously forwarded messages to your inbox. This Windows Mail import method may work in situations when you need to quickly move all or many of your emails to Windows Mail, but don't have a proper tool at hand. The only, yet serious, flaw that this method has is that all of the forwarded messages will come from the same sender – you. This means that once the Windows Mail import procedure is over, you will have an inbox full of similar messages, which will make it considerably harder to visually search for emails by sender. If you don't care about the looks and just need your IncrediMail emails transferred to Windows Mail, this "dirty" method may well be a good solution of your problem.

Another Windows Mail import method that you can use is mostly tailored for converting individual messages or small groups of emails. Launch IncrediMail, open the necessary folder and just start dragging and dropping email messages one by one onto your desktop or to any other folder on your hard drive. You will need to rename each of the copied files, since they will all have the same name – email.eml. The resulting array of EML files can then be easily exported to Windows Mail using the same drag'n'drop method.

Nonetheless, if you need or may need to perform such migration a little more often than once a year, you may want to consider using tools that were specifically designed for this purpose. Such a tool will make the Windows Mail import process more convenient and may save hours of your time in the long run.
Finding the right
Windows Mail converter
If you are seeking a more efficient solution for transferring your emails from IncrediMail to Windows Mail, you will most definitely need a Windows Mail converter – such as, for instance, IncrediMail to Outlook Converter. Although its name suggests that the primary purpose of this software is the transfer of Incredimail email to Outlook, it also enables you to use it for other types of email conversion. This Windows Mail converter is capable of converting emails from IncrediMail's native format to *.eml files that can be easily imported into nearly any other email client. The software features a minimalistic interface with just the necessary controls available to the user, which makes it possible to use IncrediMail to Outlook Converter even if you have absolutely no experience in this area. The software does not modify the original IncrediMail message files, so you can be 100% sure that your conversion experiments will not jeopardize the integrity of your email archive. This Windows Mail Converter is by far one of the most intuitive and straightforward tools you can find, so if you need more automation for regular email transfers from Incredimail to Windows Mail or other email clients supporting the universal EML message format, IncrediMail to Outlook Converter will be a perfect choice.
How to
import Windows Mail

messages from IncrediMail

The latest version of Incredimail to Outlook Converter enables users to transfer their emails to Outlook with a single mouse click, as well as to save them in the *.eml format, thus allowing you to import Windows Mail messages quickly and efficiently.

First of all, download and install the program on your computer. Start IncrediMail to Outlook Converter by clicking its desktop icon or by finding the program through the Start menu and clicking its name. Once started, the program will automatically find your IncrediMail data files and show corresponding paths in the main program window. If IncrediMail is not installed on your PC and you only have its data files, you will need to manually specify their location to the program. Once the data files are selected, IncrediMail to Outlook Converter will display a list of IncrediMail's IMM files in a list located in the left part of the program window. If you want to import all of these files to Windows Mail, leave everything as is. Otherwise, uncheck the files you don't need. You can now proceed to the conversion process by clicking the "Save .EML" button. This will bring up a standard folder selection dialog and let you specify where the program should save the files to be used to import Windows Mail messages. The program will create a number of folders (with names matching those of the source IMM files) filled with *.eml files ready to be imported.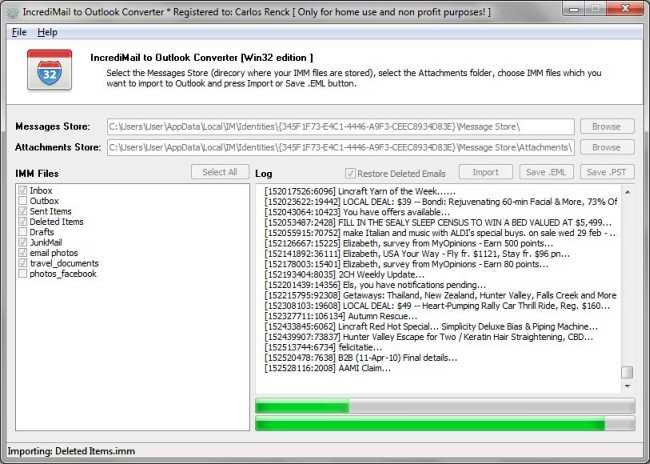 All you need to do now to import Windows Mail messages is to locate the necessary folder, select the files you need to import (or select all of them using the mouse or the Ctrl+A combination) and drag them into Windows Mail. Since the latter natively supports the EML format, your mission is now accomplished. As you see, it only takes minutes to successfully import Windows Mail emails from IncrediMail and it's incredibly easy!
Easy and hassle-free transfer of
IncrediMail mail
Incredimail to Outlook Converter offers a no-brainer method of converting IncrediMail mail files to a format that is used and understood by the majority of major email clients. If you need to convert more than a couple of IncrediMail mail files a month, this compact, affordable and reliable tool will save you a good deal of time and will make sure your Incredimail mail is safely exported to Windows Mail and other programs.
Facebook Comments
comments
One Response to "Migrating from IncrediMail to Windows Mail"