How to restore deleted files in IncrediMail?
Wednesday, March 28, 2012 @
03:03 PM

The latest version of IncrediMail stores users' emails in files of the IMM format, which is not compatible with any other email client on the market. These files are mailbox files, or containers used by IncrediMail for messages and related data. There is one peculiarity, however, that makes IMM files so special. When an email is deleted (either unintentionally or on purpose), it's not deleted on a physical level – that is, removed from your hard drive. It's simply "greyed out" in a corresponding IMM file and is no longer visible in IncrediMail folders and no longer shown to you. However, you can restore deleted files in Incredimail at any time using specialized IncrediMail recovery software. Designed specifically to restore deleted files in Incredimail, it scans your hard drive, finds IncrediMail data files, identifies their structure and recovers previously deleted email files. These tools use various algorithms to restore deleted files in IncrediMail and this functionality is not found either in IncrediMail or your operating system. Such recovery tools can help you recover data from damaged IMM files literally within a couple of mouse clicks, making it extremely easy to restore deleted files in IncrediMail even if you have absolutely no experience in this field. With a tool like that at hand, you don't have to spend your personal or company budget on IncrediMail email recovery services anymore and can restore your erroneously deleted emails within minutes!
An easy way to
undelete deleted emails

in IncrediMail

As noted above, there is no way to undelete deleted emails in IncrediMail using the built-in features of the program. And this is a rather serious problem, since you may want to undelete deleted emails in a number of situations – for instance, if you mistook an email for spam and deleted it or deleted an email with contact details of a person you urgently need to find. If the deletion was done just a few days or weeks ago, you may still find the necessary email in your deleted emails folder, but if it has been purged since the file you need was deleted, your chances of successful recovery are sub zero. In order to undelete deleted emails in IncrediMail, you need to use a special recovery tool or a program that, among other features, offers a possibility to restore deleted messages. IncrediMail to Outlook Converter is exactly this type of software. Its current version supports the recovery of deleted Incredimail emails and their simultaneous conversion to Outlook. Therefore, you will currently need to use Outlook as a destination for your recovered files.  An efficient IMM to PST converter, this program can also undelete deleted emails in Incredimail as part of the email migration process.
The process of 
deleted email recovery
IncrediMail to Outlook Converter was created for non-professionals, which means that its interface is so simple, self-explanatory and intuitive that you won't have any problems performing email migrations and deleted email recovery. The program is lightweight, takes under a minute to download and install, and requires a bare minimum of your involvement in the email conversion and deleted email recovery process. Prior to launching IncrediMail to Outlook Converter, make sure you have Outlook installed on your computer.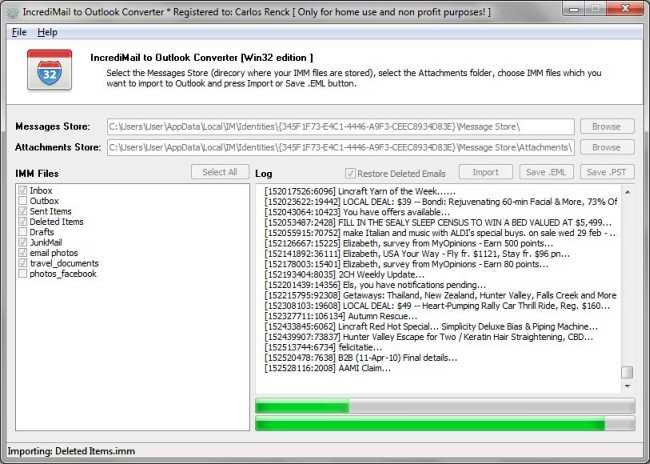 You may or may not have IncrediMail installed, but in the latter case, you will need IncrediMail data files the program will work with. Please note that IncrediMail to Outlook does not currently support selective deleted email recovery. That is, you cannot specify specific emails that the program will restore – it will recover every deleted and regular message it manages to find. Also, make sure that Outlook is closed before proceeding to the deleted email recovery procedure. To avoid potential problems, also close IncrediMail if it's currently running on your PC. You are now all set to start the deleted email recovery process.
A few easy steps to 
recover deleted files

in IncrediMail

Start IncrediMail to Outlook Converter. The software will scan your system and determine the location of your IncrediMail message and attachment folders. The paths to these folders will appear in corresponding fields in the main program window. Note, however, that it will only happen if IncrediMail is installed on your computer. If not, you will have to manually specify the location of IMM files the program should recover deleted files from.  This can be done using the standard folder selection dialog. Once the paths to IncrediMail data files are in place, you can select specific IMM files to be used from the list in the left part of the program window. All you need to do now to recover deleted files is to hit the "Import" button. IncrediMail to Outlook converter will extract emails messages from the files you selected (including deleted messages) and convert them into the PST format supported by Microsoft Outlook.  You can now start Outlook to find that IncrediMail to Outlook Converter really managed to recover deleted files.
How you can
undelete files

with IncrediMail messages on your own

As you can see, IncrediMail to Outlook Converter is a multifunctional tool that will help you transfer your entire IncrediMail email archive to Outlook and also undelete files that were once deleted by mistake. This conversion software has an interface so simple that even complete rookies will be able to undelete files in a wink of an eye and without anyone's help. The functionality this tool offers cannot be replaced with any manual method, so if you are in a situation when the value of recovering a deleted IncrediMail email is incomparably higher than the cost of a single license, this handy program will be all you could ever dream of.  It's fast, easy to use, reliable and helps undelete files deleted long ago.  If you ever need to undelete files with IncrediMail messages, don't even think about spending a fortune on recovery services from local gurus – you can do it all on your own for just a tiny fraction of their fee!
Facebook Comments
comments
4 Responses to "How to restore deleted files in IncrediMail?"