IncrediMail u Outlook Converter
IncrediMail u Outlook Converter je brz i jednostavan način pretvoriti spremljenih poruke IncrediMail na Outlook kompatibilnom formatu. Ovo . IMM na PST pretvorbe. Alat omogućava korisnicima da odaberu cijelu mapu pohranjenih IncrediMail poruke i obavljanje skupne obraćenje. IMM datoteka pohranjenih unutar, što je pametan izbor za one koji trebaju brzi pristup svojim starim IncrediMail poruke u programu Outlook ili neki drugi program.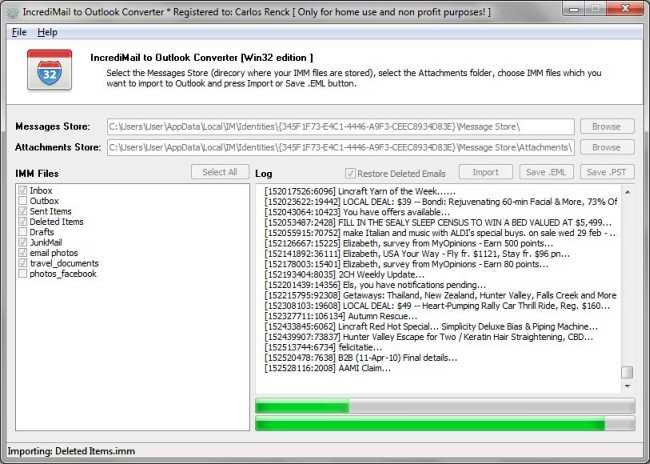 IncrediMail u Outlook uvoz korisnost se distribuira kao 32-bitni i 64-bitni izvršne. To znači da IncrediConvert radi za sve postojeće verzije programa Microsoft Outlook. Samo mali pravilan izdanju IncrediMail u Outlook Converter.
Jednostavan je za korištenje IncrediMail Mail Converter
Batch konverzija. IMM datoteka

-; Za razliku od mnogih . IMM u Outlook alata, IncrediMail u Outlook Converter je u stanju obraditi cijeli imenik IncrediMail. IMM datoteka odjednom. To znači da korisnici ne moraju gubiti vrijeme odabira svaku pojedinačnu poruku -; cijeli mapu IncrediMail poruke može pretvoriti u cjelini, uštedu energije i truda da bi se izgubiti od strane trebaju pretvoriti svaku datoteku zasebno. Još bolje, IncrediMail u Outlook Converter omogućava korisnicima da navedete IncrediMail imenike za isključenje, dajući im mogućnost da plijeviti potencijalno neželjene poruke u smeće i sl. mapa.
Pretvorba privitke

-; Osim pretvaranje teksta poruka, IncrediMail u Outlook Converter je u stanju da sigurno i sigurno ponovno suradnik

IncrediMail privitaka

na e-mail tijela s kojima su poslani. Jednostavnim odabirom Prilog mape spremišta koristi IncrediMail, bilo tko koristeći ovaj. IMM na. PST utility je u stanju bez problema povezati sve svoje važne priloge natrag na tekst s kojeg su poslane, što ih čini lako za pronaći i pohraniti za kasniju uporabu.
Jednostavan za uporabu

-; IncrediMail u Outlook Converter dolazi sa grafičkim sučeljem tako jednostavna da čak i novajlija računalo korisnik će ga razumjeti intuitivno. Sve opcije i postavke ovog programa vidljivi su na jednom, čist prozor. U tri jednostavna koraka korisnik može pretvoriti IncrediMail. IMM na. PST datoteke koriste Outlook i drugim e-mail menadžera. Jednostavno odaberite direktorij u kojem

IncrediMail

poruke su pohranjene, odaberite povezane

Prilog mape

ako postoji, , a zatim kliknite Uvoz. Korisnici čak mogu odabrati žele li novo pretvoriti e-pošte će se pojaviti desno u Outlook sandučić sljedeći put se prijavite na, ili da se pojavi u glavnoj mapi programa Outlook za pohranu stabla.
Demo verzija

-; Strah da IncrediMail u Outlook Converter možda neće biti pravo rješenje za vas? Don ';brini! Mi smo tako uvjereni da je to najbolje IncrediMail u Outlook pretvarač na raspolaganju da je čak i besplatno preuzeti suđenje. Ovaj demo omogućava korisnicima da uvoz svih IncrediMail poruke u poštanskom sandučiću svoje Outlook, mijenja za: i Od: polja i umetanje promociju u tekst tijelo. Na taj način, ste u mogućnosti utvrditi da li IncrediMail u Outlook Converter je pravi alat za vas, nerizičan!
Nemojte čekati! Ako ste izgubili pristup starim softvera i potrebu za pretvoriti Incredimail u Outlook ili neki drugi e-mail Manager, kupnju IncrediMail u Outlook Converter danas. Outlook je vodeći menadžer e-mail inbox i za korporativne i osobne račune e-pošte, i to brzo. IMM na. PST pretvarač, vi možete učiniti prebaciti na ovaj moćan e-mail menadžer danas.

IncrediMail u Outlook konverter vam omogućuje da uvoz IncrediMail e-pošte u Outlook, Pretvoriti IncrediMail e-pošte na PST datoteku, Ekstrakt IncrediMail e-pošte i spremite ih na EML datoteke. All three options make IncrediMail Converter most versatile multi-tool like a Swiss Knife.
Zahtjevi sustava:
Windows OS (bilo 32 ili 64-bitni),
Za uvoz e-pošte i pretvoriti u PST: Microsoft Outlook za Windows (bilo 32 ili 64-bitni).
Izvor poruka e-pošte: IncrediMail v1.0 ili 2.0.

* -; Don ';znam kako to pretvoriti IncrediMail 2,5 e-mail u Outlook? Pitajte nas!
 
Nagrađivani Software
Software Removal
IncrediMail u Outlook Converter designed for Microsoft Windows OS, so it can be removed from the system like any other software. The correct way to completely remove the converter is using of Add/Remove Programs option or official Uninstaller which can be launched from the IncrediMail to Outlook Converter program group (Start > All Programs > IncrediMail to Outlook Converter > Uninstall). To remove the IncerediMail to Outlook Converter from the system, you have to launch the Uninstall file and complete the simple software removal wizard.
IncrediMail Converter Helps Answer to Questions

:
Incredimail u Outlook Converter u akciji:
Podijelite ga